Community State Bank Announces 2021 Frank Lamping Community Service Award Recipient
Community State Bank is proud to announce that James Moyer has been named as the 2021 Frank Lamping Community Service Award recipient. The award, inspired by Union Grove native Frank Lamping, was created to acknowledge and celebrate a community member who exemplifies positivity, selflessness, leadership, and inspires others to give back to the community.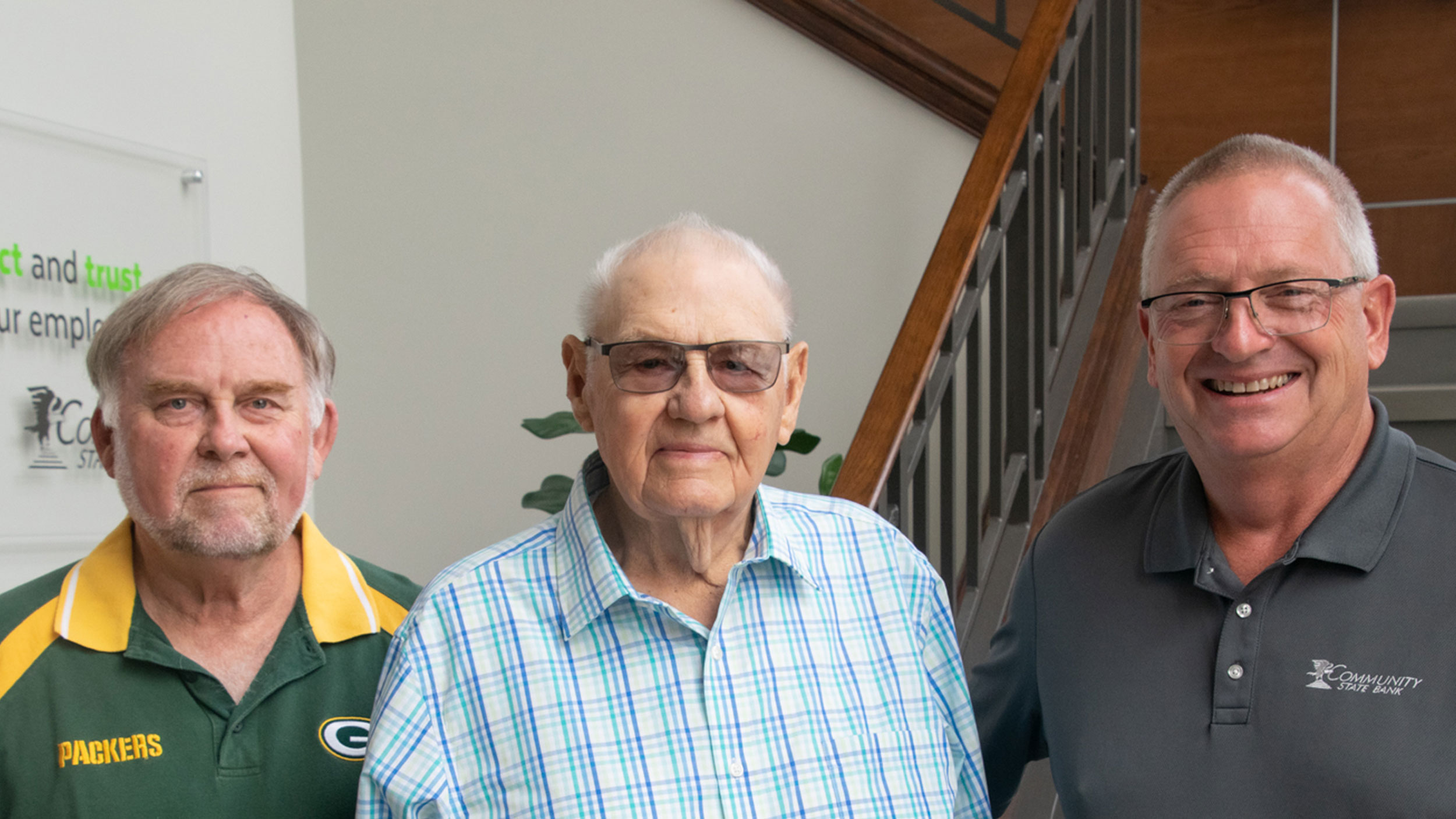 A nominating committee assembled by Community State Bank selected James Moyer, former Yorkville Town Board Member and former Union Grove Yorkville Fire Commission Chairman, for the award.
As the award recipient, James has been gifted $1,000 by Community State Bank to donate to a local non-profit or service organization of his choice. He will announce his chosen organization at an upcoming award celebration hosted by the bank.
"Well, it's very humbling to be nominated for this award," said James. "My past experiences with supporting the community all started with serving on the Yorkville School Board. From there it turned into serving on the Yorkville Town Board and so on. I do it, because that's just what you're supposed to do. You live to serve others."
James is a lifetime resident of the Union Grove and Yorkville community. He and his family reside at Moyer Family Farm. James served on the Yorkville Town Board for 34 years, Fire Commission Chairman for 16 years, Yorkville School Board for 16 years and Farmer's Cooperative Elevator/Farmers Grain & Supply Board for 26 years. He also dedicated his time towards serving as a 4-H Leader, community farmer and avid member and choir member of Yorkville Methodist Church for 60 years.
"I'll never forget attending a Yorkville Town Board meeting as a young man and my mother mentioned to me to watch Mr. Moyer and his leadership skills. Without a doubt, Jim Moyer's leadership and dedication to his community has shaped Yorkville into the wonderful community that it is today," said committee member Dan Maurice, Owner Maurice Family Farms.
James served in the United States Army as Corporal during the Korean War and is now an Honor Flight Honoree. He was also an integral part in the development of Grandview Business Park located near I-94. In addition to his various titles as board member, farmer and dad, James also stood out as a community leader.
"Jim, like Frank, never sought recognition for his acts of service. As a former Chief of the Union Grove Yorkville Fire Department, I can point to Jim's involvement in the purchase of 8 of our 9 vehicles, his indirect management, guidance and supply of wisdom to our department," said 2020 Award Recipient, Tom Czerniak. "When I think about Jim, I think about a friendly smile, a quiet demeanor and a strong presence of leadership. Congrats to a great man and leader within our community."
The Community State Bank nominating committee for the 2021 Frank Lamping Community Service Award included: Tom Czerniak (2020 Award Recipient), Jason Callewaert (Minetek & Tee It Up for Ty Coordinator), Justin Ehrhart (Ehrhart Family Farms), Kari Madrigal (Racine County Sheriff Department) and Dan Maurice (Maurice Family Farms).
Award Celebration & Presentation Event
Community State Bank will host an award celebration on October 14th, 2021 at their Union Grove office (1500 Main Street) to present James Moyer with the 2021 Frank Lamping Community Service Award. The outdoor event will run from 5:00 PM until 7:00 PM with a presentation beginning at 6:00 PM. Food and beverages will be available during the event hours. The general public is invited to attend. Visit CSB's Event Page