A Women Owned Dental Practice Focused on Community
There is a cultural concept that some business experts describe as a "Just Cause". It's a fancy way of explaining "What's our purpose as an organization? Why do we do the things we do? How do we do things differently?"
So what is CSB's "Just Cause"? It's two simple words, "Providing Opportunity".
Providing Opportunity is at the heart of everything we do as an organization; it's our reason for existence. We believe that being a successful organization goes far beyond earning money, generating deposits, or providing an exceptional banking experience. It means helping our customers, our communities, and our employees build their future and reach their goals.
For this special Providing Opportunity story, Community State Bank sits down with Owners of Union Grove Family Dental, Dr. Emily Stancato and Dr. Kristin Lenz Galbreath. We discuss how they came to be owners of Union Grove Family Dental and why they chose Community State Bank as their financial partner.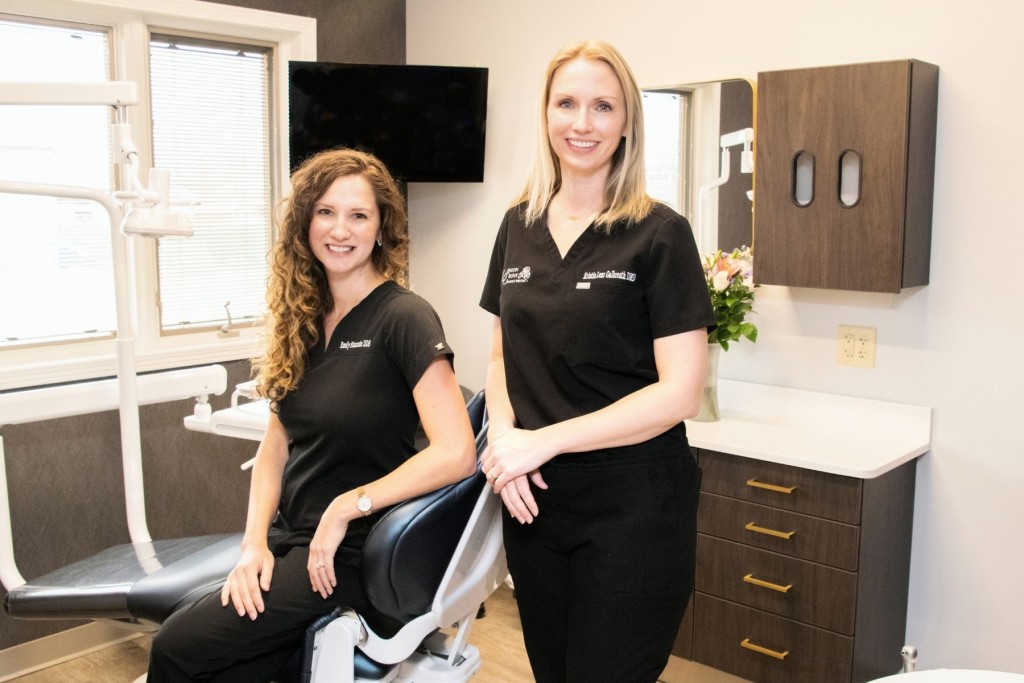 Dr. Emily Stancato and Dr. Kristin Lenz Galbreath
The Union Grove Family Dental Team
Photo Gallery #935: Click edit pencil to get the selected gallery name.
Can you explain how you acquired/found Union Grove Family Dental and how the both of you decided to partner as owners?
We worked together for two years before we decided to go into business together. During that time, we discovered that we have very compatible practice styles and philosophies, and we appreciate how our partnership allows us to balance our professional lives and personal lives each as moms of two kids. We both knew the previous owner through our connections in the dental community; he reached out to us when he started making plans to retire and pass on his practice. We decided to rename the practice Union Grove Family Dental to honor and acknowledge the community that we would serve for years to come!
What do you love about your location/the community that you're in?
We love Union Grove! You just can't beat the warmth and personality of a small-town community. Our staff and team, as well as our patients, have quickly come to feel like family. But it's also been fun to see Union Grove growing and evolving with new businesses, like ours, and new neighborhoods to welcome in more families.
How did you hear about Community State Bank?
We were aware of Community State Bank's positive reputation and strong presence in the community of Union Grove. We knew we wanted to work with a local bank. It was an easy decision to reach out to CSB as soon as we started the process of acquiring our dental practice. With all that CSB does in the community, it's a privilege to get to be a part of that support through our financial partnership. We have had nothing short of a wonderful experience with CSB! They have made every step of the purchase and practice acquisition process smooth and easy for us. Everyone we meet from CSB is such a joy to work with and their communication is quick and efficient!
Any plans for the future of Union Grove Family Dental?
We are already well underway with internal building renovations at our practice. Our patients deserve the best and we thought the office would benefit from a bit of face-lift. We've updated not only the interior finishes but also our equipment and tools. You'll continue to see these kind of updates for years to come so that we are well prepared to provide the best care possible. We are also committed to staying on top of the latest updates to clinical techniques, materials, and treatment to prioritize the dental health of our patients.
To learn more about Union Grove Family Dental please visit: UnionGroveFamilyDental.com