They found a forever home in a run down restaurant
As a community bank we have the unique opportunity to be an influential part of many special journeys taking place in our communities. Whether it's guiding a customer through their first mortgage experience, helping a business customer start up a new idea, working hand-in-hand with a local non-profit organization to make a difference or simply being a mentor for a new employee of Community State Bank...our purpose as a community bank is to "Provide Opportunity"!
We'd like to take some time to shine a spotlight on some of those unique stories and share them with you, our community and our customers! Wherever you are in your financial journey, Community State Bank is here to help.
For this special story, CSB visited Carrie Bristoll-Groll and Anthony Groll. In 2020 they stumbled upon a former bar and restaurant that was for sale in Northern Kettle Moraine. From the moment they walked into the property, Carrie knew that this would be their forever home. Here's their story and how Community State Bank's Business Banking Team and Mortgage Lending Team teamed up to provide the Groll Family with the opportunity to purchase and transform a restaurant into home sweet home...
Carrie, tell us about this opportunity and what you're currently working on?
While backpacking the Ice Age Trail in Fond du Lac County in October 2020, we took a wrong turn and ended up on a roadway that led us to this closed and abandoned-looking restaurant in the middle of the state forest. It was a wreck, but was calling out for some love!
We wanted to know more and contacted a local realtor for a tour. The realtor told us that 4 other couples had tried to purchase the property, but being a restaurant (during 2020 and the beginning stages of Covid-19), banks weren't loaning for new restaurants. A few had wanted to convert it into a home, but because of it's current setup (15 sinks, 2 urinals, no showers or closets), others had not been able to get financing.
As business owners, and having a good relationship with our Community State Bank Commercial Banker, Robert Pieroni, we really didn't think twice in talking with anyone else. At first, there was hesitation by CSB on whether they would put this through as a commercial or residential loan, but the two teams came together to make it happen for us.
We purchased the former bar/restaurant that was built around an 1860's log cabin. It's a unique property set on 9 acres in the middle of the Northern Kettle Moraine State Forest. We are now converting it into our forever home and hope to leave it as a legacy for our children one day.
What has been your experience thus far with the mortgage and business banker(s) that you are working with?
Amazing! Every step of the purchase seemed to cause new hurdles but the bank was willing to work with us. CSB decided to run the loan as commercial, so a commercial appraisal was needed. Commercial appraisers were not jumping at the opportunity, as there were no comparable properties within 20 miles. We had an accepted offer on our former house, and we were going to have to move one way or another. CSB went out of their way to make sure we got the appraisal wrapped up so we could close within days of needing to move. Since closing, we've kept in touch with the bank and have been providing photos of how our progress is going. They seem to be genuinely interested and excited for us.
How has CSB provided you with the opportunity to do this renovation that maybe other banks may have not?
Because we own a small business of our own, we have had about 7 bankers at 4 banks over the past 20 years. None of them seemed like real people to us. Many seemed like a traditional stuffy bankers who were out of touch with our niche business and didn't seem to care about our success. However, our experience at Community State Bank was different. Their Business Banking Team has gone above and beyond, connecting us with other like companies or potential clients. Because of their efforts it has led us to at least one new project. Similarly, on the personal/residential side, CSB cares about the dreams and ambitions that we have, and they look for ways to say yes, rather than no. They almost feel more like family than bankers...that's a compliment!
What phase are you in currently project-wise and what are the next steps to completing this project?
We added a shower on closing day, so that we could move in 2 days later. That was mid-January. Since that time, we sold or donated all the restaurant equipment, removed the 52 foot long bar and piping, added a master closet, removed a 12 by 18 foot walk-in cooler, installed a whole new kitchen, new windows, filled in hardwood floor where the bar was removed, and refinished the whole open space floor. The restaurant had two very large roof top heating units, which were very costly to run ($1300 heating bill in January). We had those removed and installed new AC and hot water/radiant heat. The roof is about half complete, as well as some siding updates. Next steps are adding a guest bathroom and two guest bedrooms, and lastly our master bath. The schedule is on target to be completed by the end of this year, so we can refinance to a residential mortgage...which of course will be at CSB. Besides the electrical, HVAC, and roof, we have done all of the work ourselves, with the help of two of our grown sons. It's a family effort. It has been a busy year between business and renovations, but we are keeping our noses to the grindstone!
We heard your home came with a visitor as well...
Yes! The second floor of the property also has a 1 bedroom apartment that was being rented out for 15 years by the former bar manager. My husband likes to joke that "he came with the place" and had no lease, so we let him stay until June. We have since renovated that space and are using it as an AirBnB. The listing is live if you'd like to check it out. It's a great space and because the property was a restaurant, it's in close proximity to snowmobile trails for winter occupants. The area is beautiful and we're surrounded by the Kettle Moraine State Forest in addition to many lakes. It's a beautiful area.

Learn More About the CSB Mortgage Center.
---
Following the interview, Kenosha Market President, Robert Pieroni and Mortgage Loan Officer, Kim Terpstra were taken on a tour of the property. Photos from that tour can be seen below. Once the project is complete, Community State Bank looks forward to re-visiting the property and getting video footage of the completed project. Stay tuned!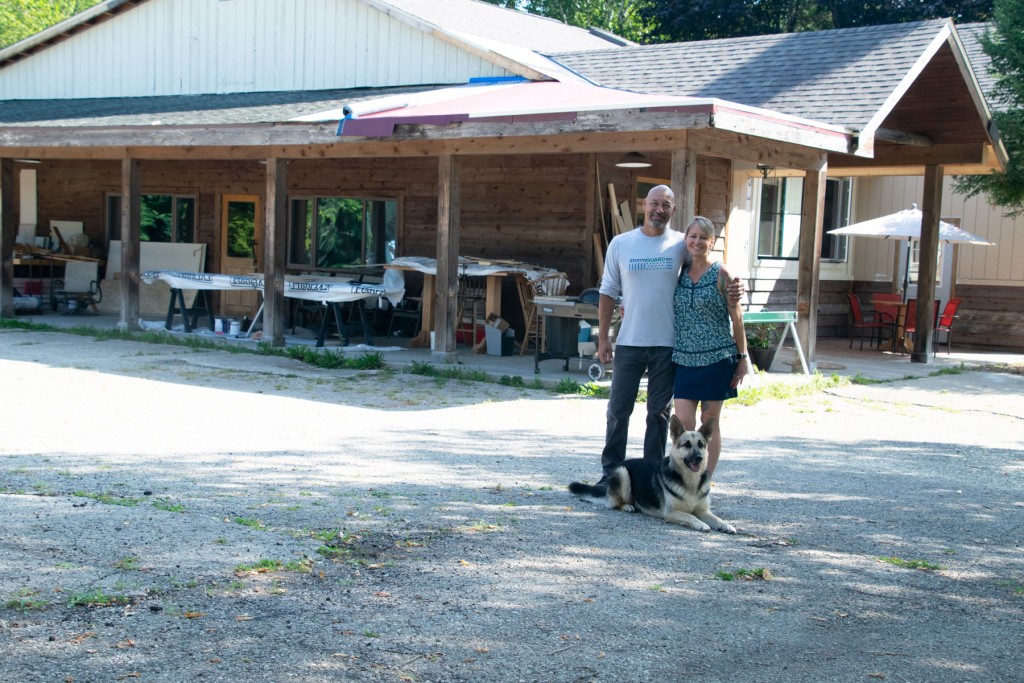 Carrie Bristoll-Groll and Anthony Groll stumbled upon this old bar/restaurant and 1860s log cabin while backpacking on the Ice Age Trail in Fond du Lac County.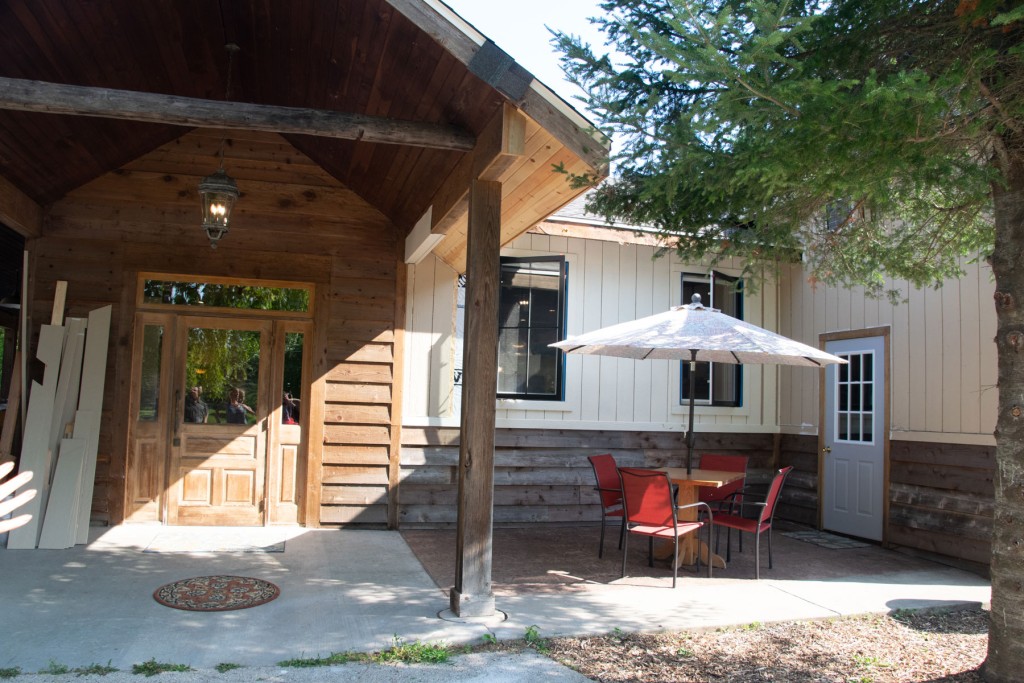 From the moment Carrie stepped into the property, she knew this would become her forever home.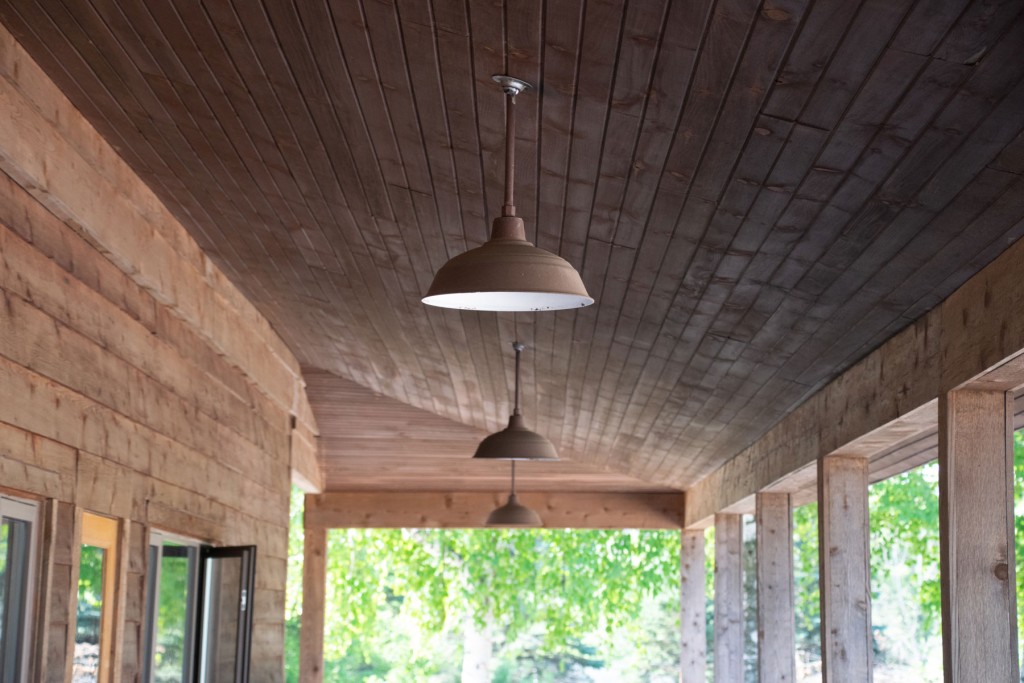 The property features beautiful wood work which Carrie and Anthony have continued to highlight and restore throughout the renovation process.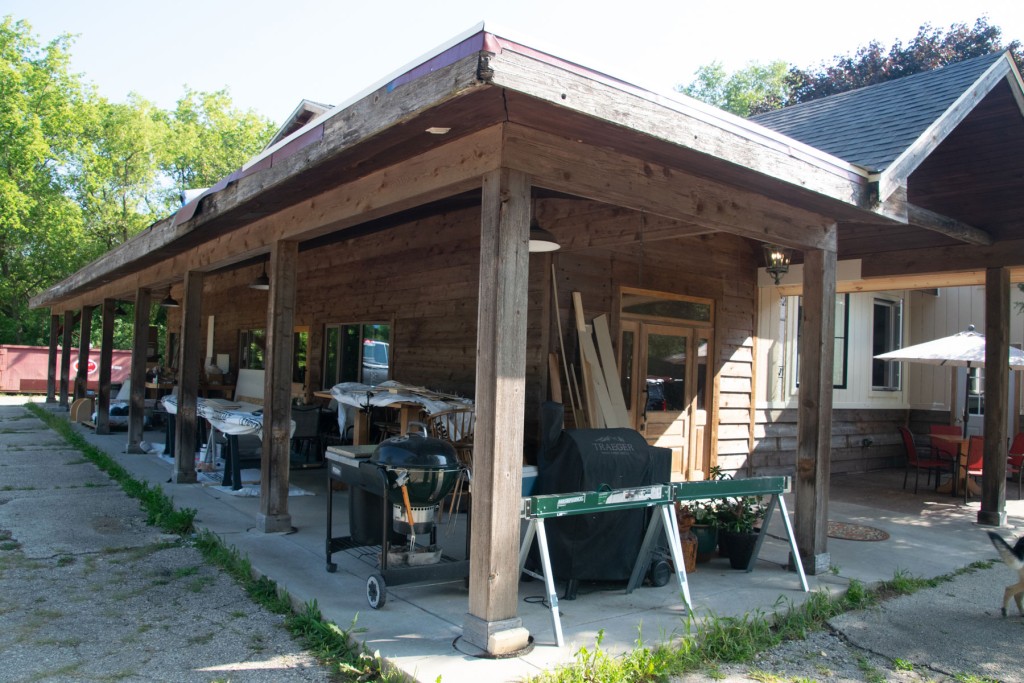 The property has a wrap around patio that is currently serving as a staging/renovation space. The patio overlooks 9 acres of forest and is surrounded by the Kettle Moraine State Forest.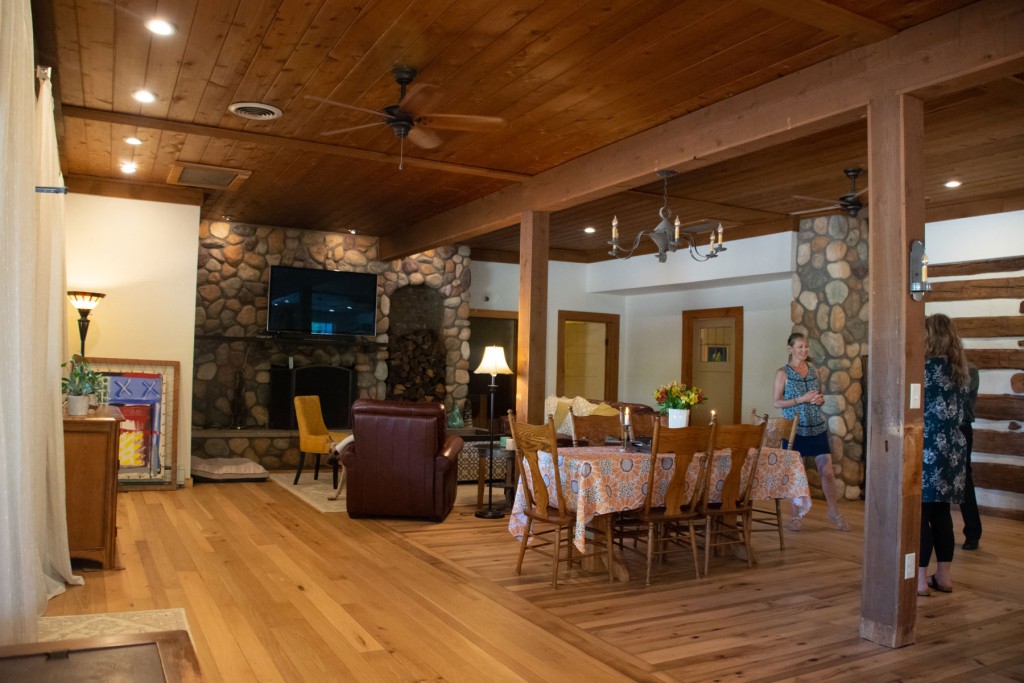 As soon as you enter the home your eye meets a huge stone fireplace, tall ceilings and beautifully restored wood flooring. The flooring in the center was found in an old barn, was original to the home, and was fully restored by the Grolls.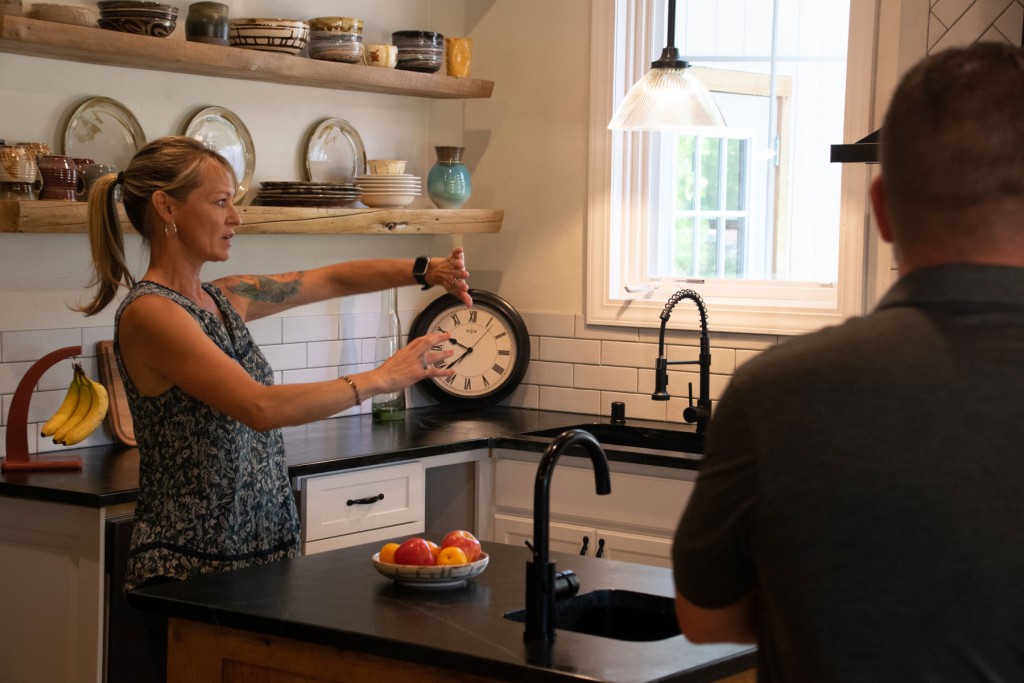 The kitchen was recently completely renovated. The Grolls continued to add in historic wood pieces throughout the space.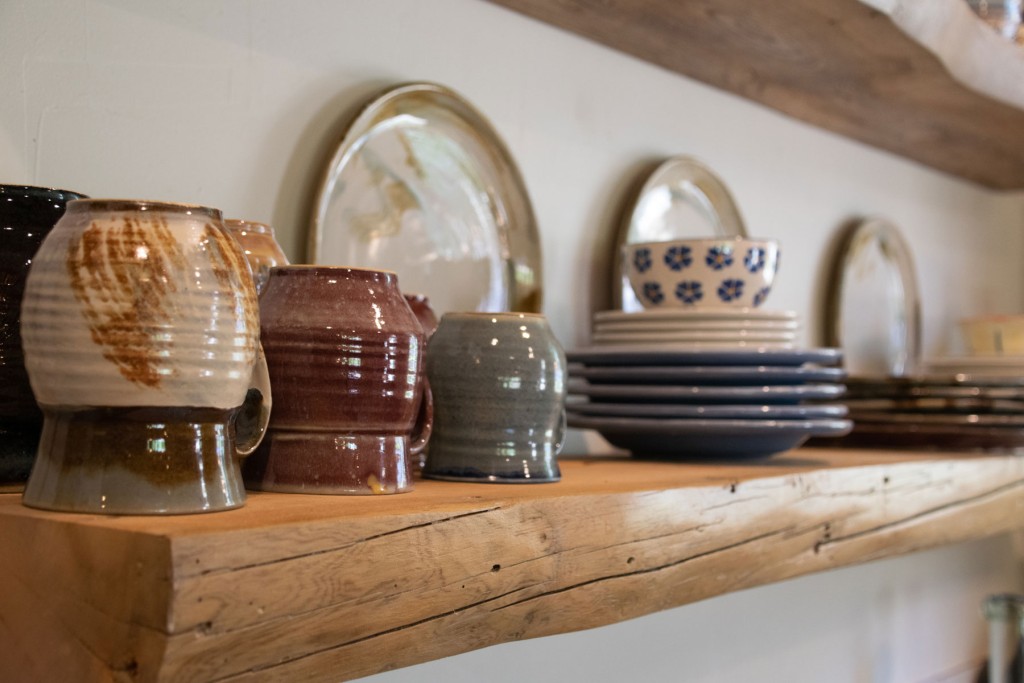 Dishes are beautifully displayed in the kitchen on these hand crafted shelves.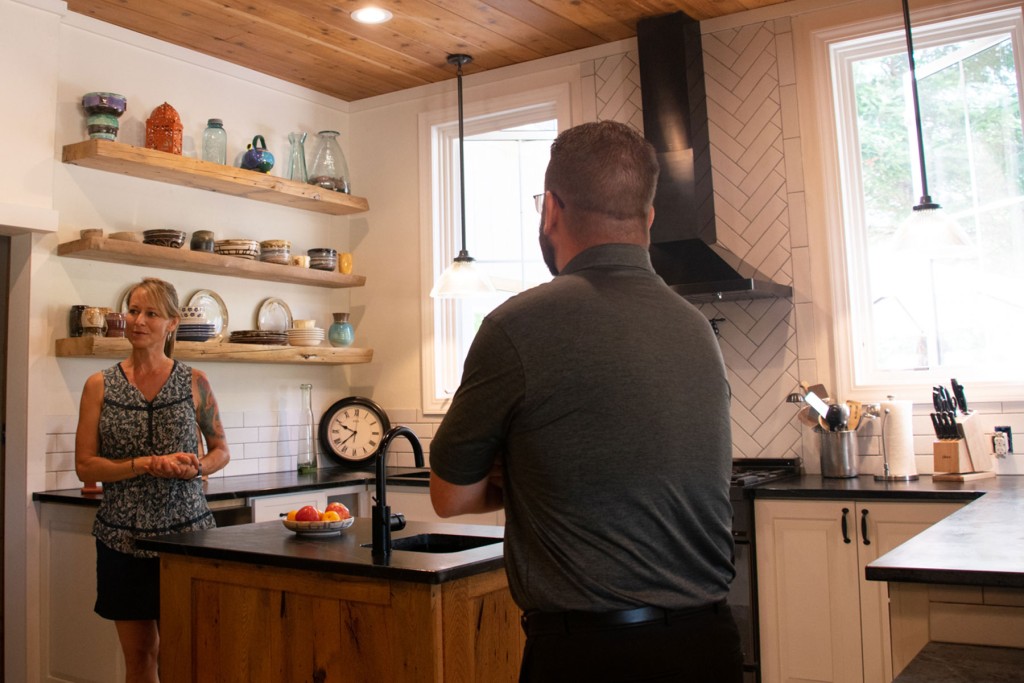 The ceilings are very high throughout the home creating the space to have an open concept.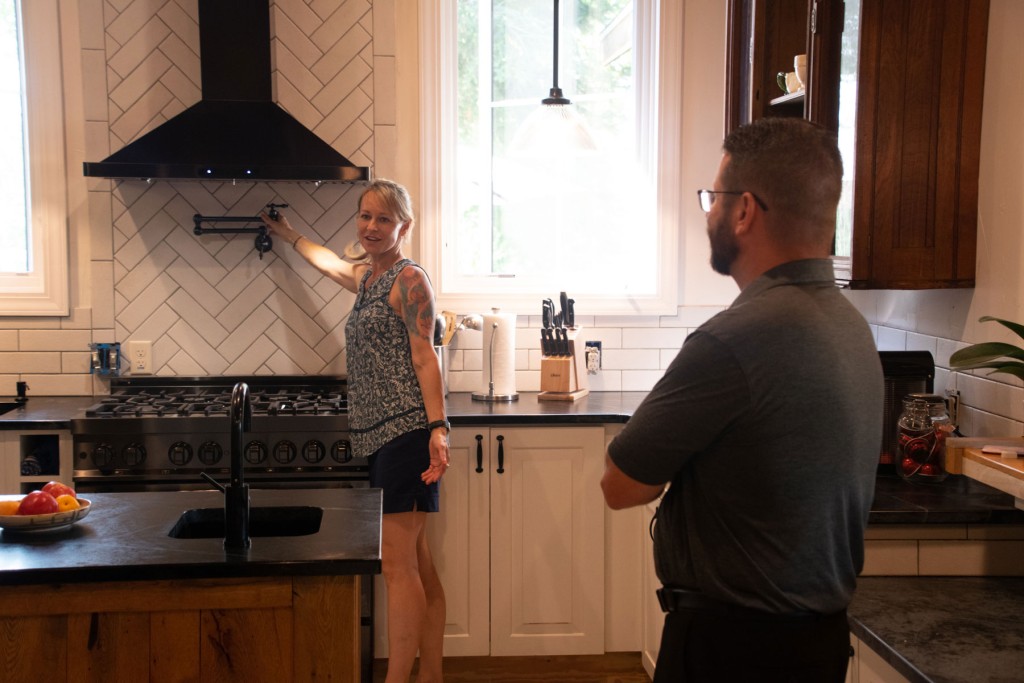 Chevron tiling was placed behind the stove hood with a pot filler faucet.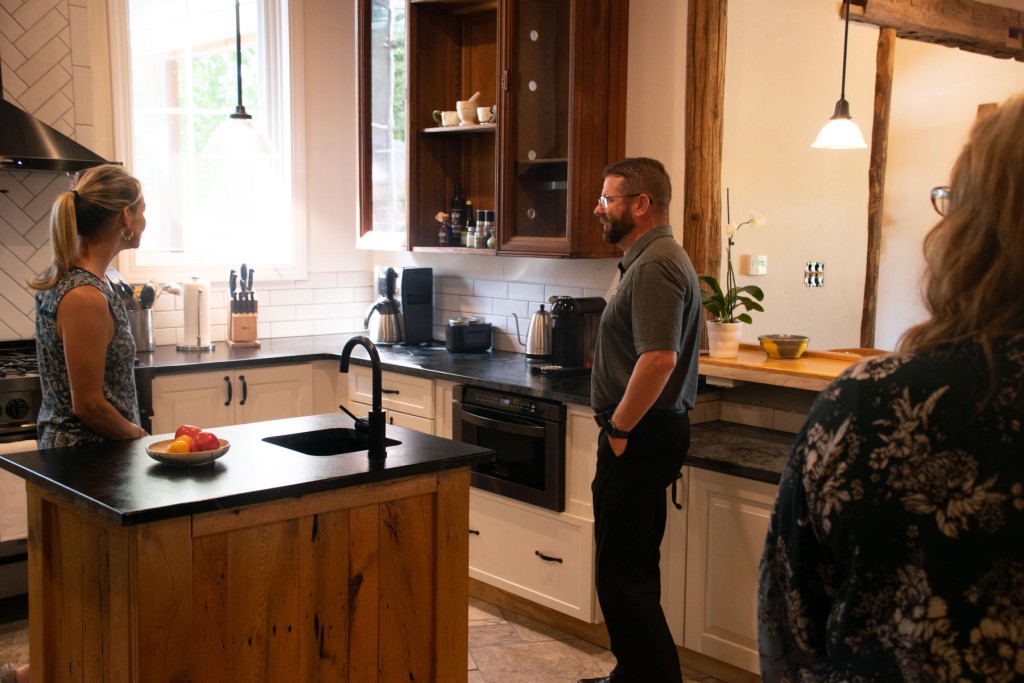 Carrie chose old and new cabinetry to use in the kitchen space which plays well off of the original wood work in the home.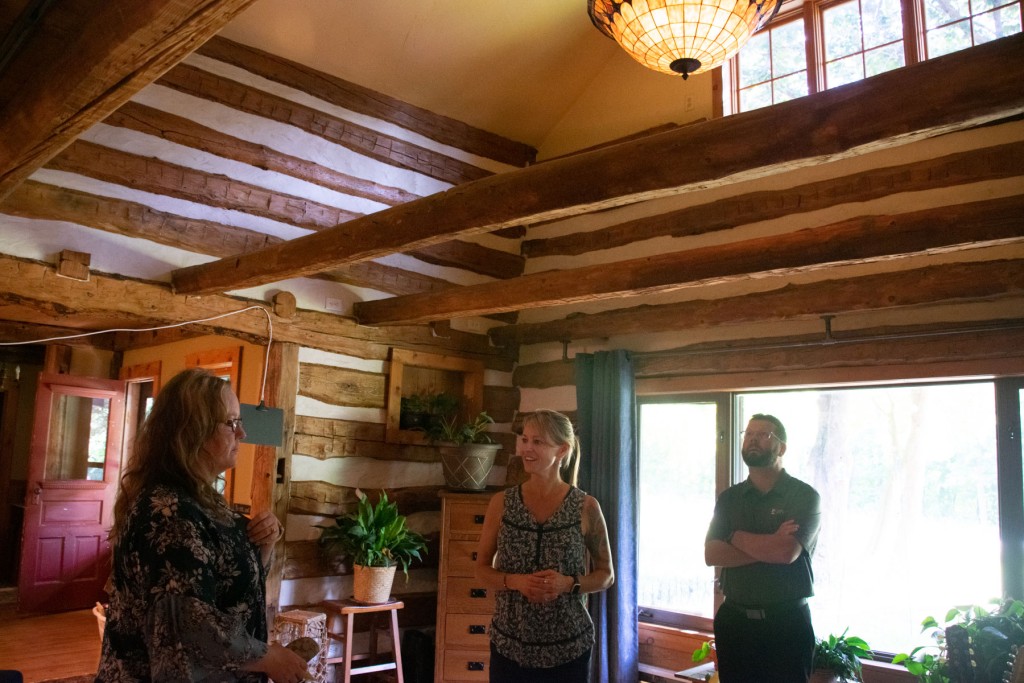 The restaurant was built around a log cabin that was built in the 1860s. The original log walls can be seen in the master bedroom.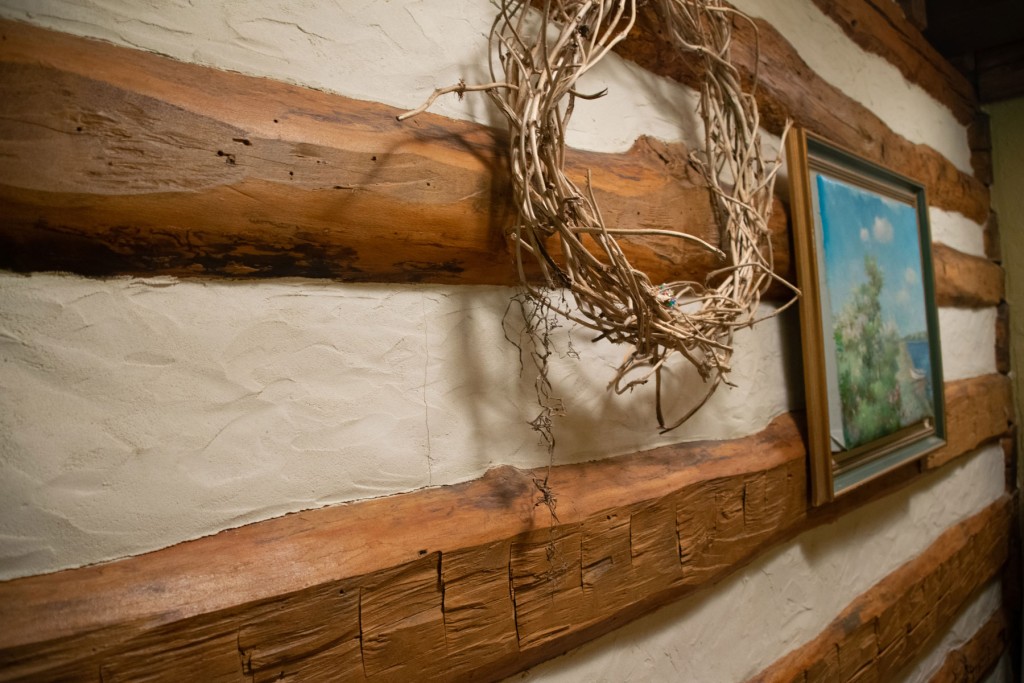 Previous owners discovered the cabin and had to remove plaster from the logs to restore the wood. Can you imagine how much work that entailed?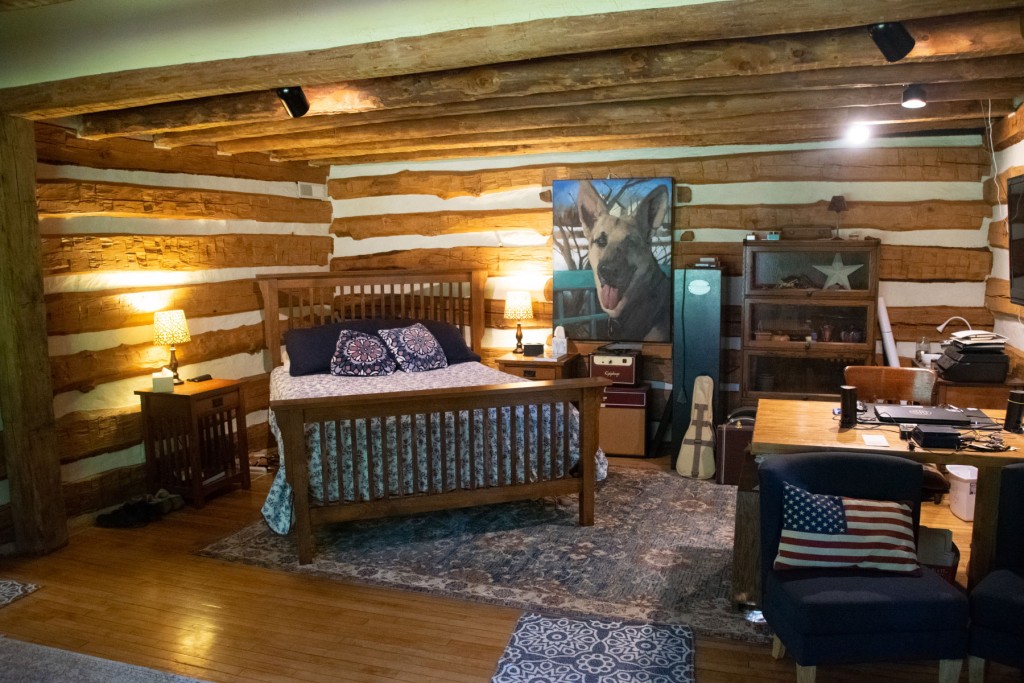 The log cabin wood is in great condition!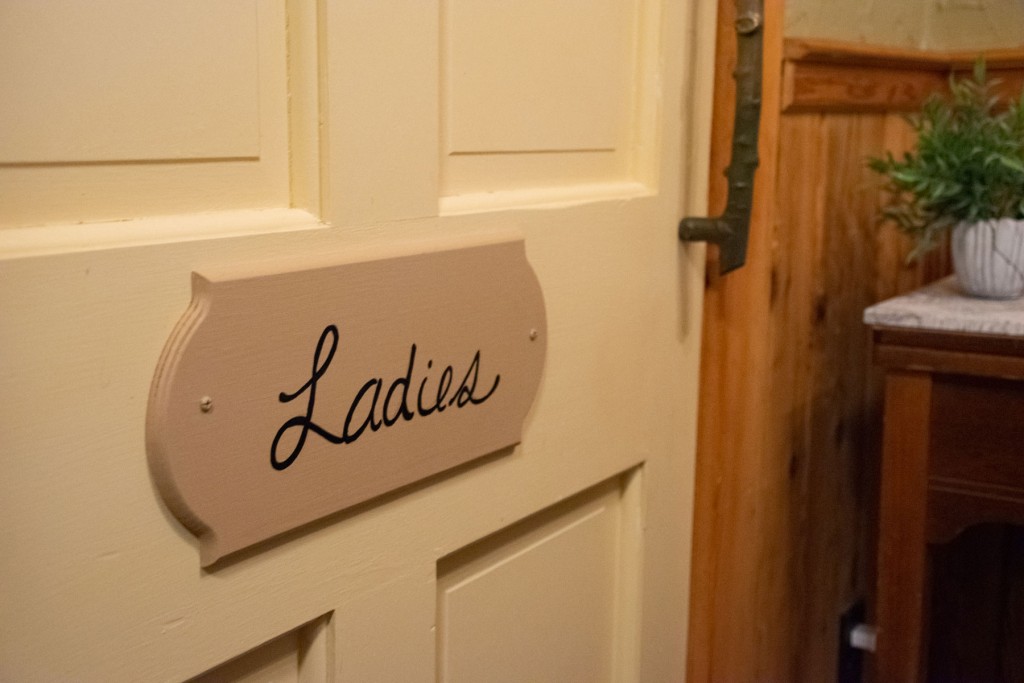 The restroom doors still have signs on them from the home's restaurant days. Little details that remind you of the home's history.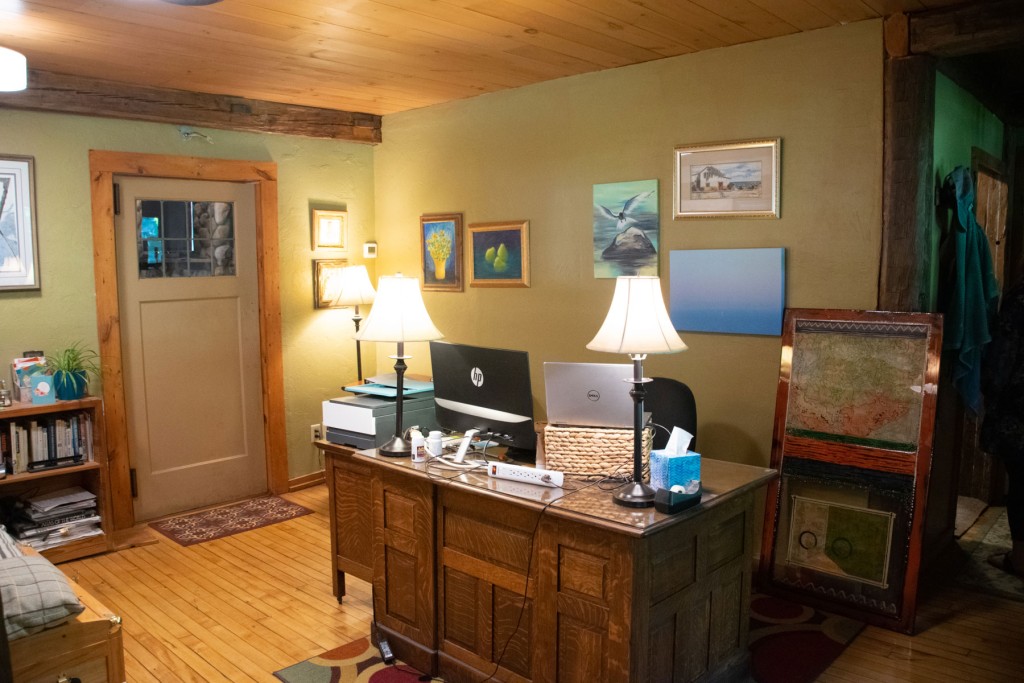 Next to the bedroom is an office which connects to the main living room area.
This space will soon be used as 2 guest bedrooms and a guest bathroom.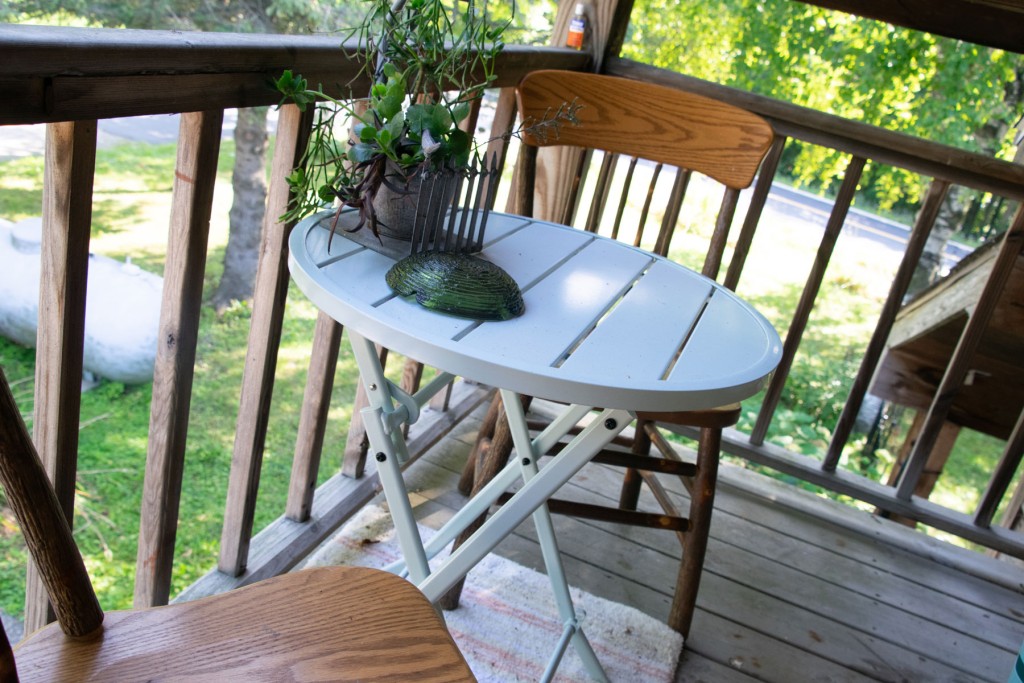 On the second level is a 1 bedroom apartment that is currently utilized for guests and as an AirBnB.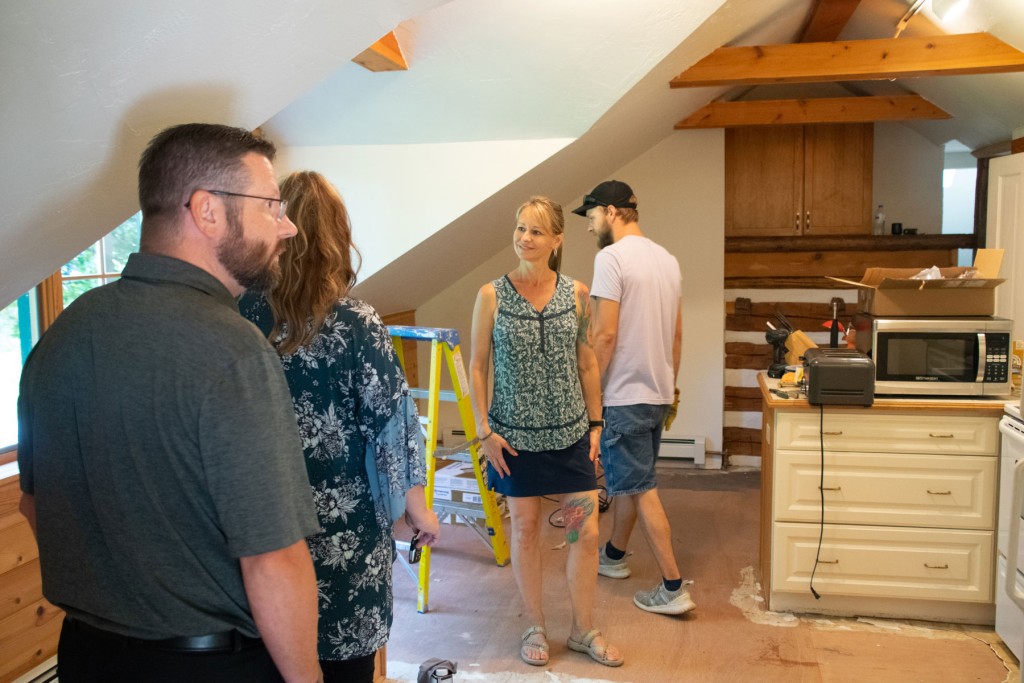 That apartment space during renovations. It includes a kitchen, bedroom, full bath and living room with plenty of space for others to sleep.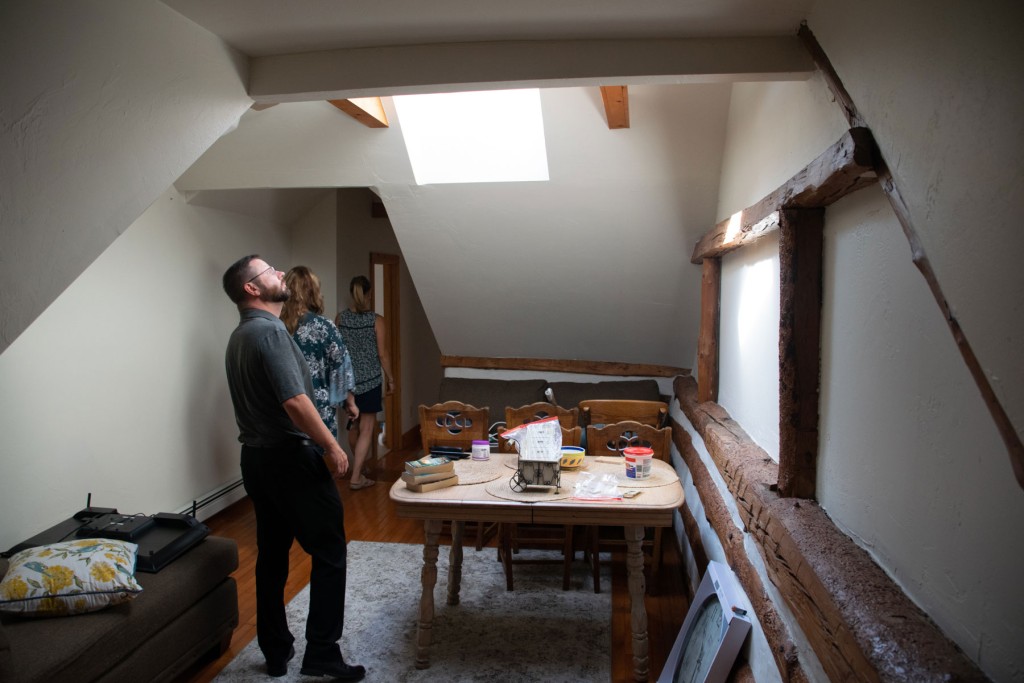 The space is bright and airy with skylighting and high ceilings.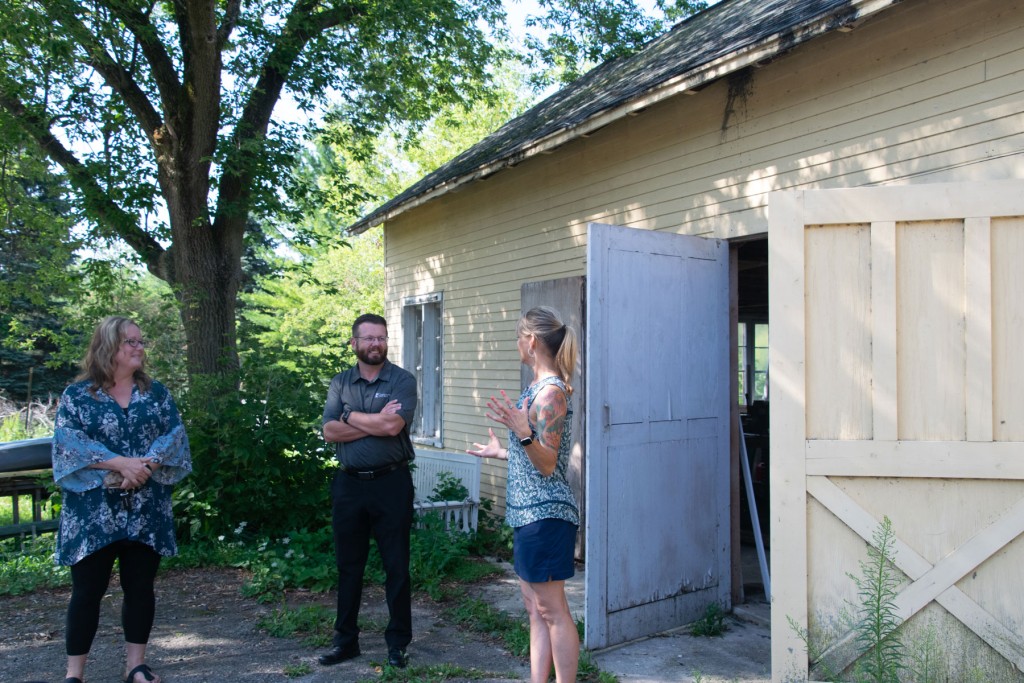 Outside the property is a small barn which could be used for storage or a studio space.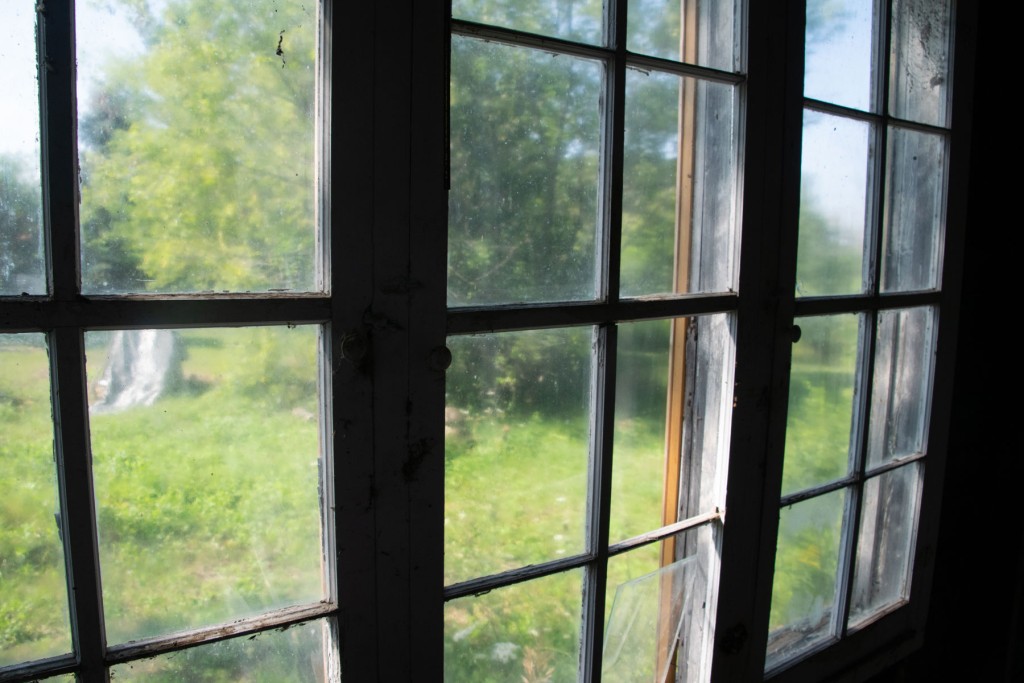 The barn also has beautiful windows that wrap around.
Photo Gallery #888: Click edit pencil to get the selected gallery name.